Prenatal Massage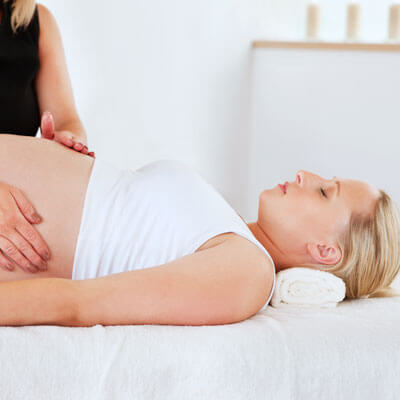 Back pain, aching muscles, sleepless nights, and a body that no longer feels like it fits—no one ever said pregnancy was easy. We're here to help take the load off your shoulders and make you feel comfortable and new again. Here at Back to Health Center, we offer safe and effective prenatal massage so you can feel your best, even when expecting. Let our skilled practitioners help you experience your pregnancy as a season of peace and excitement instead of pain or anxiety.
Alleviate Pain, Stress, and Insomnia
This therapy is a great way to get some rest and relief from the discomforts your rapidly-changing body keeps throwing your way. Some women come to see us with a specific complaint they'd like to address. Others choose to enjoy a little relaxation during a time that can otherwise be overwhelming.
Either way, we're trained in specific techniques for pregnancy that can calm any area that's been giving you trouble and aid your muscles and joints in supporting your baby weight well.
Sessions increase circulation, which can limit swelling. We see many women suffering from muscle aches and pains, especially in the low back or gluteal area, where they've been compensating for the extra weight in front. Our medium-firm pressure can relieve tension and tightness to help clear up pain or general discomfort.
When your body relaxes, your mind and emotions respond by relaxing, too. Don't be surprised if our sessions help calm any stress or anxiety you've been facing; there's power in taking a break to unwind and fully rest. We've also seen clients achieve breakthroughs in sleeping better after coming to see us. No matter what physical, mental, or emotional strains you're experiencing, we can help you enjoy an overall better experience of pregnancy.
What to Expect at Your First Appointment
On your first visit, you'll start by filling out an intake form. We'll then show you around our family-friendly clinic, which has changing stations in the restroom, information for moms throughout the facility, and toys to keep your kids busy while they wait (yes, we clean them between clients).
Once in the room, you and your therapist will touch base with an initial consultation. We'll talk with you about what brought you in to see us and whether you have any specific complaints we can help you resolve. We'll also ask how far along you are and whether you are considered high risk to make sure we're good to go for safety purposes.
This visit is an important time for us to get to know you and answer any questions you may have about our process or the massage techniques we offer. Don't hesitate to talk with us about any concerns, because we want to learn your background so we can serve you best.
Keeping Both Mom and Baby Safe
Safety is our number one concern. Our practitioners use medium-firm pressure instead of deep tissue pressure as an added precaution. Many clients are surprised by how soothing medium-firm pressure is. We pride ourselves on offering extremely relaxing and restorative sessions without cutting any corners when it comes to safety.
We always use the side-lying position. We've found this to be the most comfortable position for most women, since it mimics the way they sleep at home. At the same time, it's also safer for the baby, since it keeps you from lying face-down with your belly hanging in an insert.
Next-Level Comfort to Help You Relax
Even with these extra safety measures, our sessions are still perfectly luxurious. We've balanced our medical training and expertise with experience working in high-end spas. We put a little extra comfort into every session, using rolled towels, scalp massage, and moisturizers to give you an experience you'll rave about. If you're not on cloud nine, we're not doing our job.
Clients can see us as often as needed, depending on your situation. We recommend all pregnant women see us at least once a month. If you have room in your schedule, there's no reason not to come back for a little extra pampering anytime.
Book an Appointment Today
Give yourself a break from the stress of pregnancy. Contact us to schedule an appointment and let us take you to new levels of comfort.
CONTACT US »

Prenatal Massage Therapy Old Town Alexandria VA | (703) 683-7771