Acupuncture in Alexandria VA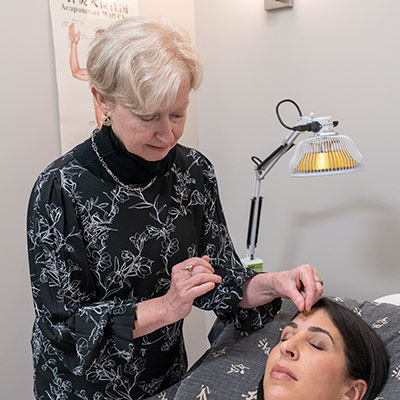 When pain is persistent, finding relief that lasts is what you want and need. Relief that's natural and holistic is even better; you want a solution that doesn't create unpleasant side effects.
Sometimes, it may take a combination of therapies to get great results. At Back to Health Center, we get it. We understand how a problem in one area of your body can affect another. Licensed Acupuncturist and Doctor of Oriental Medicine, Dr. Joanie Stewart, L.Ac, DOM, has the expert training to evaluate your health and well-being.
How Does Acupuncture Work?
An ancient Chinese practice, acupuncture works with the natural energy flowing through the body. When the energy flow is blocked, or disrupted, it affects the systems of your body. Organs and muscles don't get the necessary flow of energy and nutrients, so they're unable to properly function.
Using thin, hair-like needles, the doctor places them at specific points to stimulate the nervous system and release stress in the affected area. The body is now able to send signals to the muscles, spine, and brain, allowing the body's natural healing abilities to kick in.
Chiropractic care and acupuncture both work to remove blockages in the nervous system, and relieve the stress that's causing your problem. Using these therapies in conjunction enhances the benefit to the affected areas, reducing pain and encouraging better healing. Adjustments go deeper, and hold longer, after an acupuncture treatment.
The results you'll get from acupuncture depend on your unique situation. Some areas that can show improvement are
Better sleep
Fewer migraines and headaches
Improved immune health
Enhanced mood
Reduced lower back pain

Acupuncture visits can take up to 15-20 minutes.
How will I feel after my session?

Most people experience various post-session feelings, which range from energized to a deep sense of relaxation and well-being.
How often will I need acupuncture?

There's no right or wrong schedule for acupuncture. Some patients enjoy it weekly or monthly. We recommend listening to your body as to how often it may help you. We'll also recommend a care plan once we know more about your goals.
Take the Next Step to Better Health
Acupuncture is a natural and holistic system of healing that, together with chiropractic care, can provide pain relief, increased function, and faster healing. When added to your care plan, you'll feel better faster, and stay that way longer!
CONTACT US »

Acupuncture Old Town Alexandria VA | (703) 683-7771