Postnatal Massage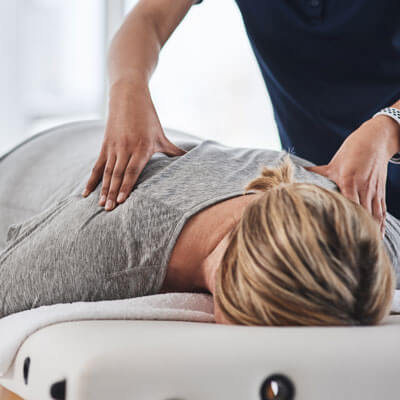 Postpartum can be a confusing time. The snug little baby in your arms makes you happier than you can say. Still, you might not have been prepared for the toll birth would take on a body that doesn't look, feel, or function the way it used to. Add on sleepless nights, a newborn's relentless needs, and a healing process that takes longer than you hoped, and it's clear that you could use a break.
At Back to Health Center, we offer postnatal massage because we understand what the fourth trimester feels like. Whether you're experiencing pain or just worn out from the demands of pregnancy, birth, and caring for a baby, we want to offer you a soothing, relaxing experience to help you heal faster and feel your best.
Safe, Careful Attention to Your Needs
No matter how you delivered your baby, your body has taken a beating. It needs as much care and attention as it can get right now. Massage can help you feel more comfortable and fresh as you adjust to all the physical and life changes of pregnancy and postpartum.
We always start by checking in with clients to see how you're doing and make sure your body is ready for a session. Unless you have a doctor's clearance, we usually wait to start therapy until six weeks after birth just so your body can work through its initial healing first. After that, we want to make sure you're not at high risk, and we want to know your doctor's guidelines in case you experienced any complications or have special needs.
Pregnancy hormones loosened up your joints a lot. We take our time to thoroughly check in with you and provide gentle, careful sessions to ensure we're not overextending anything. We'll be cautious and sensitive to your body's needs so you can rest easy, safe and secure.
Relax and Enjoy Decadent Comfort
We go all out to make sure your experience with us is luxurious and incredibly comfortable. We know you don't get many chances to step away from motherhood, so we want to make this session count. We'll work in little extras like rolled towels, moisturizers, or scalp massage as you prefer as we use our experience in high-end spas to treat you like royalty.
You don't need to feel embarrassed when you come in to see us. We work with new moms all the time, and we know this season can be a little messy. We put towels down on the table, so it's okay if a little milk leaks. That's a good sign, because it means you're feeling comfortable. Rest assured that we are here to cater to your needs; you're a treasure, not an inconvenience.
Frequency of Visits
We recommend that new moms come see us a minimum of once a month up to as often as you need. Whenever you're doing upkeep therapy, the more frequently you can get in, the better. At least twice a month is ideal, but it depends on how much time you have available to work in a session.
Schedule Today
If there was ever a time for self-care, it's now. Treat yourself to deeper rest; contact us today to book your first appointment.
CONTACT US »

Postnatal Massage Therapy Old Town Alexandria VA | (703) 683-7771