Pregnancy Pain Care in Alexandria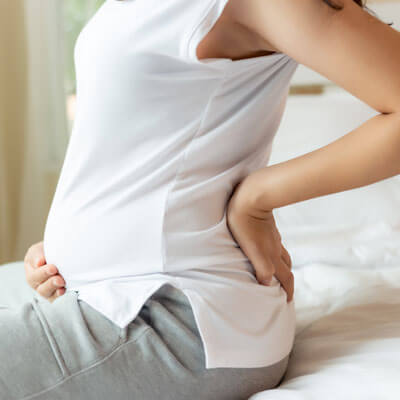 Most pregnant women experience some sort of pelvic instability, either pelvic pain, pubic pain, or sacroiliac joint pain. Low back pain, which tends to be hip pain and bursitis, is also common. These are the majority of complaints we see in our practice. We provide our moms with a lot of care for these issues.
Some moms experience more middle back and neck pain due to the change in posture and laxity in their ligaments. Moms-to-be don't really have many resources for pain relief. A study revealed that a popular brand of acetaminophen isn't great for the pregnant mom, and that's what has been recommended in the past.
Fortunately, chiropractic has an excellent track record, not only for helping pregnant moms feel better, but also for aligning the pelvis. Historically, those patients getting adjusted have better labor and delivery times than those who don't get adjusted.
Early Care Prevents Issues
Ideally, a pregnant mom would come in as soon as she finds out she's pregnant. It's easier to help mom have a great experience throughout her pregnancy, instead of waiting until she's in significant pain and trying to help her feel better. Prevention is always optimal.
We're not just working on getting women out of pain, we're working on making sure their labor and delivery goes well by aligning their pelvis, and setting them up for success. The earlier, the better. Twenty weeks is when moms normally start to feel the change, start to show, and their body starts to get uncomfortable.
At that time, we normally recommend coming in every other week, if they're not in intense discomfort. We view it as a "Set me up for success/general wellness" pregnancy schedule. Once a mom-to-be reaches 28 weeks, we see her once a week until she goes into labor.
Our office staff will greet you when you enter. You'll fill out a few forms not found on our online portal. As a courtesy, we do an insurance verification for you, to let you know what your insurance benefits are prior to the evaluation.
Once everything has been processed at the front desk, you will be brought back into the exam room. Most pregnant patients will receive care on their first visit to provide some much-needed relief.
We use the same table used for all Dr. Shara's other chiropractic patients. However, there's a special dropout piece to make room for her belly to hang down. This feature allows moms to lie face down. We don't adjust pregnant moms like regular patients. We use the Webster Technique, which is especially designed to align the sacrum and the pelvis, so the mom has optimal pelvic alignment and often helps relieve her discomfort.
Is chiropractic safe for babies?

Yes, it's very safe for your baby. And, because of drop pieces in the table, it's perfectly safe for a mom's belly.
Are you certified in the Webster Technique?

Both of our chiropractors are certified in the method. Dr. Shara has been in practice since 2004, has taken many seminars on the Webster Technique, and keeps renewing her Webster certification. "I'm always staying on the cutting-edge of new changes they're implementing," she said. Dr. Shara wants patients to know that peer-reviewed survey analyses of practices have shown that Webster is a very safe technique.
Do you turn babies?
No! The Webster Technique does not turn a breech baby. When the baby is in the breech position, and Mom is seeing a chiropractor, there's an 80% chance the baby will position appropriately, if the pelvis is appropriately positioned.
Webster is a great, conservative way to manage a mom's pregnancy discomfort, make sure the pelvis is in good alignment, and the uterus is positioned appropriately inside the pelvis. Now, the baby can position themselves for birth.
We're not treating the baby, only the mom.
Book an Appointment
We want to help you experience a more comfortable pregnancy. Contact us today to schedule an appointment.
CONTACT US »

Pregnancy Pain Care Old Town Alexandria VA | (703) 683-7771