Massage Therapy in Alexandria VA
The
massage therapists on the Back to Health Center team
are experienced in freeing people from a cycle of pain.
Both chronic and acute problems can benefit from massage therapy, and it works hand-in-hand with chiropractic care.
There are different types of massage techniques, affecting the body in various ways, with many offered at our practice. Check out the info below to learn more!
Stretching
Stretching is a highly beneficial way to increase the range of motion within the joints. It also helps to decrease tension created by bad posture.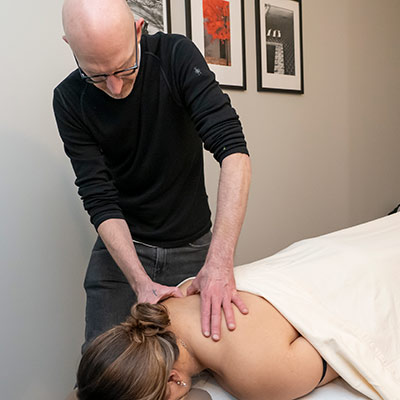 Swedish Massage
A relaxing massage uses longer strokes that will stimulate circulation and loosen muscles, releasing toxins, relieving pain and speeding healing.
30 minutes – $76
45 minutes – $90
60 minutes – $105
90 minutes – $155
120 minutes – $185
Deep Tissue/Therapeutic Massage
This technique works against the grain of your body's tissues, using pressure or friction to access deep tendons, muscles and ligaments. The scar tissue that causes pain is broken up, allowing your body to heal.
30 minutes – $75
45 minutes – $90
60 minutes – $105
90 minutes – $155
120 minutes – $185
Pre/Postnatal Massage
Feel pregnancy-related pain, swelling, fatigue and emotional stress diminish, promoting blood circulation to improve your well-being. We'll take extra time to make sure you're comfortable through the entire massage.
30 minutes – $75
45 minutes – $90
60 minutes – $105
90 minutes – $155
120 minutes – $185
Sports Massage
Athletes can return from injury, improve their training outcomes and be freed from soft tissue tension that can cause overuse injuries. Sports massage improves flexibility and mobility as well as enhances overall performance levels.
30 minutes – $75
45 minutes – $90
60 minutes – $105
90 minutes – $155
120 minutes – $185
TMJ Massage
Recurring headaches can result from jaw clenching, teeth grinding or whiplash injury. A TMJ massage targets the jaw, head and neck to release tension and increase blood circulation, resulting in pain relief.
Aromatherapy Massage
Aromatherapy Massage Benefits include relaxation, headache relief, stress & pain relief, improved mood, and increased circulation.
Each session includes a 1 oz. bottle of massage oil infused with a therapeutic blend of essential oils. The oil is used in the session and the client takes any remaining oil home for ongoing care. I can also create custom aromatherapy blends for clients as well.
Anyone who is feeling tension can benefit from stretching. Whether you're sitting for long periods at your home workstation or are an athlete wanting to have an optimal range of motion to enjoy your favorite sport, you can benefit from stretching.
You will be clothed during your sessions. We use a table; the therapist will stand on either side of the table and go through different ranges of motion. The therapist will spend 30 minutes to an hour bringing you through specific stretch programs to loosen up those joints.
We offer several stretching packages, ranging from twice a month to four times a month. You also can elect to just come in on an as-needed basis.
30 min for $55

60 min for $100 with new client special of 20% off first visit

Massage Therapy Old Town Alexandria VA | (703) 683-7771