Massage Therapy in Alexandria VA
The massage therapists on the Back to Health Center team are experienced in freeing people from a cycle of pain. Both chronic and acute problems can benefit from massage therapy, and it works hand-in-hand with chiropractic care.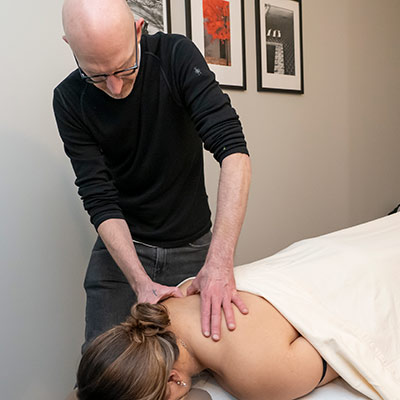 Massage therapy can lower stress levels and increase your feeling of wellness. Here are some conditions that can benefit from it.
Anxiety
Depression
Digestive disorders
Fibromyalgia
Headache
Insomnia
Nerve pain
Postoperative care
Scar tissue
Soft tissue strains and injuries
Sports injuries
Temporomandibular (TMJ) disorders
There are different types of massage techniques, affecting the body in various ways, with many offered at our practice. Check out the info below to learn more!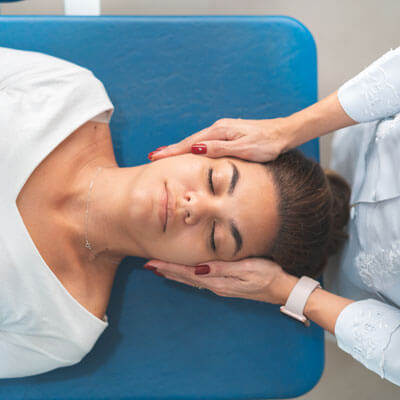 Our Techniques
TMJ Massage
If you experience TMJ pain, massage therapy can help relax the affected joints and muscles and alleviate pain. The specific muscles that have tightened and are causing your pain are massaged gently.
Deep Tissue Therapeutic Massage
This technique works against the grain of your body's tissues, using pressure or friction to access deep tendons, muscles and ligaments. The scar tissue that causes pain is broken up, allowing your body to heal.
30 minutes – $75
45 minutes – $90
60 minutes – $105
90 minutes – $155
120 minutes – $185
Sports Massage
Athletes can return from injury, improve their training outcomes and be freed from soft tissue tension that can cause overuse injuries. Sports massage improves flexibility and mobility as well as enhances overall performance levels.
30 minutes – $75
45 minutes – $90
60 minutes – $105
90 minutes – $155
120 minutes – $185
Swedish Massage
A relaxing massage uses longer strokes that will stimulate circulation and loosen muscles, releasing toxins, relieving pain and speeding healing.
30 minutes – $75
45 minutes – $90
60 minutes – $105
90 minutes – $155
120 minutes – $185
Aromatherapy Massage
Aromatherapy Massage Benefits include relaxation, headache relief, stress & pain relief, improved mood, and increased circulation.
Each session includes a 1 oz. bottle of massage oil infused with a therapeutic blend of essential oils. The oil is used in the session and the client takes any remaining oil home for ongoing care. I can also create custom aromatherapy blends for clients as well.
Prenatal Massage
Find relief for pain, swelling, stress, and insomnia with safe prenatal massage. Along with addressing any areas of pain or tension, we provide maximum comfort and relaxation so you can get back to enjoying your pregnancy glow.
30 minutes – $75
45 minutes – $90
60 minutes – $105
90 minutes – $155
120 minutes – $185
Postnatal Massage
Take some time to rejuvenate after the challenges of pregnancy, birth, and postpartum recovery. Postnatal massage boosts circulation and provides relief for exhaustion and stress, helping you feel your best as you get back on your feet.
30 minutes – $75
45 minutes – $90
60 minutes – $105
90 minutes – $155
120 minutes – $185
Who Can Benefit?
Anyone who is feeling tension can benefit from stretching. Whether you're sitting for long periods at your home workstation or are an athlete wanting to have an optimal range of motion to enjoy your favorite sport, you can benefit from stretching.
Different Packages Available
We offer several stretching packages, ranging from twice a month to four times a month. You also can elect to just come in on an as-needed basis.
30 min for $55
60 min for $100 with new client special of 20% off first visit
Frequently Asked Questions
I've never had a massage before; what should I expect?
The comfort of our clients is very important to us. You can undress to your comfort level or even have a massage fully clothed. You will be appropriately covered during your session. We will use massage oils and/or lotions on your skin.
Do I need to fill out any type of form before my session?
Yes, we will ask you to complete a health history intake form that will provide us with an understanding of any health conditions or concerns you may have. This form also gives us permission to provide you with a therapeutic massage.
How should I prepare for my session?
We recommend that you don't eat within an hour of your massage therapy session. It's also important to be hydrated (drink water) before arriving. We recommend that you use the restroom before your session to avoid needing to go during your appointment. The oils and lotions that we use are good for your skin so taking a shower/bath before you arrive will be to your benefit.
What's included during my session?
Your LMT will customize your massage therapy session according to your specific needs.
Should I talk during my session?
Preferably not, but if you want to you can. It's ideal to relax your mind and your body during the massage to experience the full benefit of the session. It is not uncommon for people to fall asleep. If this happens then your massage therapist will continue the session and wake you up at the end of it. If at any time you prefer to have more pressure or less, please let your therapist know.
Should I expect to be sore afterward?
If you had deep massage work done, you may experience soreness the following day, but you should feel much better within a day or two. Each massage therapy session is tailored to a client's specific needs, and therefore the amount of pressure also depends on each person. You should tell your massage therapist during your session if you need more or less pressure.
What tips would you have for somebody post-massage?
It is recommended that you drink plenty of water afterwards. During your massage therapy session toxins in your body are loosened up and will get flushed out once you go to the restroom. Relaxing after your massage is also important to get the full benefits of your session.
How often should I get a massage?
Massage therapy has so many benefits and is recommended for everyone at least once a month for wellness. If you have any pain, you should get a massage more often. Because massage therapy improves your circulation and removes toxins it can also help you heal faster.
When should I not get a massage?
Massage therapy should be avoided if you have any serious health conditions, or if you have a fever, cold/flu, meningitis, severe osteoporosis, or liver failure. You should also avoid getting a massage if you are intoxicated, have a high-risk pregnancy, or are in your first trimester of pregnancy.

Massage Therapy Old Town Alexandria VA | (703) 683-7771