Back to Health Center Services
We Care For All Ages and Stages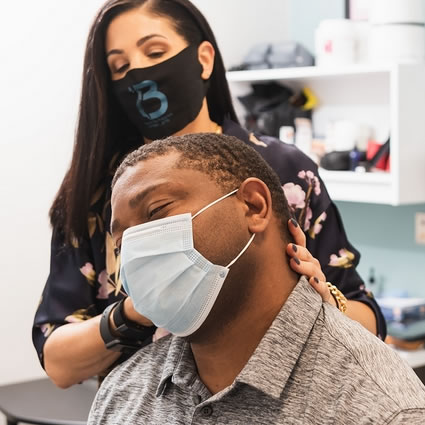 At Back to Health Center, we strive to help you and your whole family achieve your health goals. To give your body what it needs to feel incredible, we provide a broad range of services. We may recommend using a combination of them for your greatest benefit.
Read on to learn more about the services we offer, or if you're ready to book, get in touch with our friendly staff to make your appointment.
Chiropractic Care for Adults and Kids
Whether you suffer from pain or simply want to feel your best, our chiropractic team provides comprehensive, effective care. We also specialize in prenatal and pediatric chiropractic.
The spinal column can be disrupted by trauma or even the simple stresses of everyday life. Our pain-free techniques to align your body include:
Activator Methods®
Cox Flexion-Distraction
Cranial osteopathy
Sacro Occipital Technique® (SOT®)
Thompson Specific
Dr. Shara has advanced training in many methods, ensuring we have the ones that are most appropriate for you. If you prefer a certain spinal adjustment style, we're happy to accommodate you. We'll walk you through what to expect and describe the technique we recommend before starting.
Cold Laser Therapy
Discomfort affects millions of people every day. One common cause is damaged muscle and tissue that needs to be healed. The cold laser therapy at Back to Health Center can help manage the pain of many conditions:
Adhesions/scar tissue
Arthritis
Back pain
Carpal tunnel syndrome
Fibromyalgia
Joint inflammation
Neck pain
Numbness and tingling
Plantar fasciitis
Sciatica
Shoulder pain
Kinesio® Taping
This flexible tape can assist you in recovering from injury, with many benefits:
Movement support
Physical activity support
Reduction of inflammation
Relaxation of overused muscles
Speeding your healing
Often used on athletes, Kinesio® Tape is available in a variety of colors. It's applied to the problem area, giving warmth and support to decrease any symptoms you may be feeling. Used in conjunction with chiropractic care, our patients experience better recovery times.
Massage Therapy
The massage therapists on the Back to Health Center team are experienced in freeing people from a cycle of pain. Both chronic and acute problems can benefit from massage, and it works hand-in-hand with chiropractic care. There are different types of massage therapy affecting the body in various ways, with many offered at our practice.
Acupuncture
The Back to Health Center team includes a Doctor of Acupuncture who is highly trained in evaluating your health and well-being. Acupuncture works ideally when paired with chiropractic to give you an incredible healing experience. Discover more about acupuncture to improve your health and relieve discomfort!
Facial Cupping
Facial Cupping, like regular cupping, is designed to increase circulation to muscles and tissues. Facial Cupping uses very small cups to enhance blood flow to the face and neck area, to tighten and tone the skin, and return it to a more youthful state by stimulating collagen and elastin production.
Cups are gently guided across all areas of the face and neck, creating a very light suction that feels both relaxing and tingling at the same time.
Facial Cupping relaxes tight facial muscles, reduces puffiness, smoothes fine lines, moves out stagnant lymph fluid and toxins, and clears the sinuses. Each treatment concludes with a "Guasha" Jade Massage to cool the skin and create a healthy glow!
Half-hour treatment (including Facial Cupping and Guasha): $75. Package pricing available.
Nutrition Counselling
Nutrition and chiropractic go hand in hand. The nervous system influences every part of the body, and digestion is no exception. It tells your body what to do with the fuel you put in. If your nervous system is misaligned or blocked, the necessary nutrients won't be properly broken down or fully used. Chiropractic adjustments can correct the misalignment, and ensure that messages from your brain and body are transmitted without disruption.
Stretching Services
Stretch therapy is a form of bodywork and self-care designed to increase physical movement and range of motion, enhance flexibility, and improve breath practices. Each session has an enhanced approach that adds a level of personalization because it is tailored to each client to ensure progress and reverse pain.
Package pricing available.
Spinal Decompression
Are you seeking an effective and comfortable way to address your bulging, herniated, or slipped disc? Look no further as we are pleased to offer non-surgical spinal decompression. As a type of motorized traction, this therapy involves a decompression unit, which opens up the space between the spinal bones, producing a type of "respiration" of the fluid surrounding the joint.
The damaged disc receives nourishment and removes cellular waste, enhancing the healing process. Non-surgical spinal decompression also alleviates pain. Here are some conditions that may improve with this therapy:
Carpal tunnel syndrome
Headaches
Low back pain
Numbness or tingling
Sciatic pain
Contact Us Today
Start feeling better today – contact our team to schedule your appointment! Saturday times are available.
CONTACT US »

Back to Health Center Services | (703) 683-7771