IV and IM Vitamin Therapy in Alexandria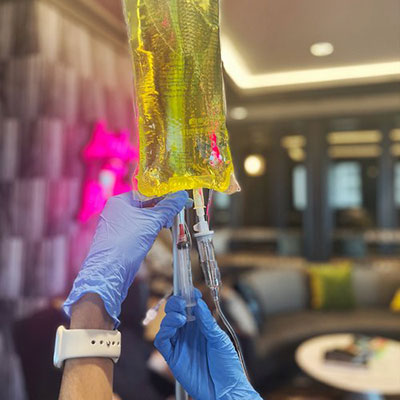 Benefits of intramuscular and intraveous vitamin and nutrient injections:
Intramuscular (IM) and intravenous (IV) vitamin and nutrient injections result in blood that allow these nutrients to act as medicine to combat deleterious effects of aging, stress, and environmental exposures.
IV therapy allows higher doses and different combinations of nutrients to be given and provides the additional benefit of immediate delivery to the bloodstream and increased hydration. Infusions take 45 minutes to 1 hour.
IM therapy is fast and convenient and makes nutrients available in the bloodstream in 5 – 30 minutes. The procedure takes 5 minutes.
IM injections and IV infusions of vitamins and nutrients provide the following benefits:
Quickly optimize cellular processes to improve energy, performance, and youthful appearance
Vitamins and nutrients bypass the digestive system and are not lost due to malabsorption
The doses of vitamins delivered can serve as antioxidants and protect the body from deleterious effects of aging and cleanse the body of toxins and free radicals
Specific vitamin shots and infusions:
Promote superior functioning of the immune system protecting people from colds, flu and even cancer
Increase energy levels and combat fatigue
Improve athletic performance
Help maintain a healthy weight
Brighten skin and strengthen nails and hair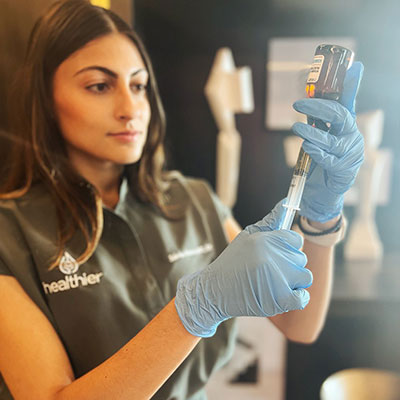 Get to Know Sabrina
Born and raised in Chicago, Sabrina has lived in various places recently. She attended the University of Central Florida for undergrad degrees in Health Administration and Nursing. She's working toward her Master of Science in Nursing to become a Nurse Practitioner.
Sabrina has vast experience in emergency room medicine and has been working with IV therapy since 2020. She is passionate about the lifelong benefits of this treatment and is excited to help patients experience improved health.
When she's not working, Sabrina enjoys spending time with her dog Casper, traveling, exploring DC with her boyfriend, and finding new workout classes to try. She also enjoys hanging out with friends.
Book an Appointment
Experience the many health benefits of IV Therapy. Our office will offer therapy treatments on Monday, Wednesday & Friday. Use the form below to schedule an appointment!
What to Expect
Please wear clothing where the sleeve can be pulled up and be hydrated. Also make sure you have eaten a small meal before your session. At your appointment, we will take your health history, and registered nurse Sabrina Matias will provide your therapy session.
Frequently Asked Questions
Who is a candidate?
You must be 18-75, and not pregnant or breastfeeding. Those with chronic kidney disease or congestive heart failure cannot have the treatment.
Are the treatments safe?
Yes. While vitamins are not FDA approved, we obtain all of our vitamins from an FDA regulated pharmacy here in the United States. All of our IVs are administered by our trained and licensed RN Sabrina.
Why IV Therapy instead of taking supplements?
This treatment allows for a much greater dose and absorption of vitamins, amino acids, and nutrients directly into your system.

IV Vitamin Therapy Old Town Alexandria VA | (703) 683-7771